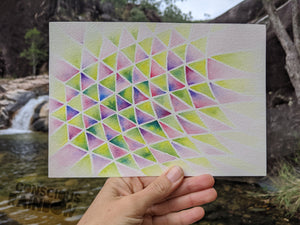 "Universal Realignment" 'Intuitive Energetic Timestamp Portrait' - Original Watercolour Painting, A5 (Ready to ship NOW)
PLEASE NOTE: This is an already painted, one of a kind, original 'Intuitive Energetic Timestamp Portrait', as per the photographs. If it calls you, it is ready to ship to you now. If you would prefer a custom original painting of YOUR energy field, then please visit the CUSTOM Intuitive Energetic Timestamp Portrait to purchase.
This is a snapshot portrait of an energy field, as intuitively perceived by me (Cherie, from Conscious Rainbow).  The portrait is of an energy imprint that I have been seeing repeatedly in 2020, across many different energy fields, including my own, and in that of the collective consciousness.  It is a snapshot of a very brief moment, where three sets of purple and green parallel lines, intersect each other.  Each set of lines consists of purple and green lines alternating, which are continuously moving and wriggling themselves across the energy field, like an electric current.  When three sets of these meet and move through each other, there is a fleeting moment where this magnificent sacred triangular pattern is created.  And then it is gone.  
To me, the purple and green stripes, represent realignment with or connection to, your own individual authentic truth.  The green is universal love, and the purple, is intuition.  So it makes sense that I am seeing this pattern repeated often right now, in the energy fields' of people, collectives, and of the earth itself.  If you would like to understand the significance of the purple and green stripes in more detail, check back, as I intend to write a much more detailed blog post on this.  I will link it here, when it is complete.  
All things have energy fields, as we all are made up of energy. Humans, animals, plants and trees, rocks, everything! It's that "presence" that you feel when you're around something, like a big old ancient tree.  Some may refer to it as an aura. Some think of it as their intuition or a "gut feeling".  We all feel it at times, but not everyone knows what it looks like.
Energy fields are continuously flowing, and ever changing. This artwork is my stylised interpretation of a snapshot in time - the colours, and shapes that I saw in this field of energy.
You will receive
1 x 14.8cm by 21cm / A5

one of a kind, water colour, original painting (unframed), titled "Universal Realignment", representative of the above described energy field, as I perceived it.
Please note: The portrait will be received unframed, and it is intended to be hung in 'landscape' format, as per the photographs provided.   
Copyright Information: This original artwork is for personal use only. It may be hung in a personal residence, or at a business premises.  Sharing, replication and commercial use are not permitted. If you wish to replicate, or use for commercial purposes, please contact me about purchasing an additional license for commercial use. © Copyright 2020 Conscious Rainbow.
Additionally, imagery and photography in this shop listing may not be used or shared without explicit credit, and linking back to Conscious Rainbow, or The Billionaire Artist. © Copyright 2020 Conscious Rainbow.
International Shipping: This item can also be shipped to Aotearoa / New Zealand, Canada, and the USA. (See more shipping information). If you would like to purchase and ship your energetic portrait to another location (outside of Australia, Aotearoa, Canada, and the USA), please contact me BEFORE purchase , for a custom international shipping quote. If you accept this quote, I will manually setup our website to ship to your location, so you can continue your purchase online.
Recommendations for framing and hanging
Professional framing is recommended.  However, if you are looking for guidance, tips on framing it yourself, or details on hanging, please see framing and hanging information at thebillionaireartist.com/framing.
If you are interested in having your own CUSTOM Intuitive Energetic Timestamp Portrait painted, then please follow this link, to purchase.  
For further information on how these custom portraits are created, see the blog post below.  
How do I create a portrait of YOUR energy field?
Read the 'Intuitive Energetic Timestamp Portrait' blog post, for more details on the process.
© Copyright 2020 Conscious Rainbow.
See copyright information above, for details of copyright on purchased artwork, and copyright on imagery used in this listing.
---
We Also Recommend
---