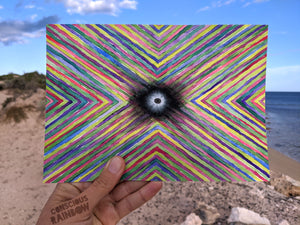 "Black Hole Multiplier" 'Intuitive Energetic Timestamp Portrait' - Original Watercolour Painting, A5 (Ready to ship NOW)
PLEASE NOTE: This is an already painted, one of a kind, original 'Intuitive Energetic Timestamp Portrait', as per the photographs. If it calls you, it is ready to ship to you now. If you would prefer a custom original painting of YOUR energy field, then please visit the CUSTOM Intuitive Energetic Timestamp Portrait to purchase.
If you would like to download and PRINT YOUR OWN copy of the watercolour painting titled "Black Hole Multiplier", download here instantly, READY FOR PRINT to put in standard size frames.  
If you would like to download a digital DEVICE / LAPTOP art copy of the watercolour painting titled "Black Hole Multiplier", download here instantly, ready for use as background desktop art, screen saver or lock screen image on your mobile, device or laptop.  
This painting is another portrait from the purple and green stripes series (by Cherie from Conscious Rainbow).  It came to me differently than my other paintings have.  It came incrementally, as both elements of "seeing" (with my eyes shut, and open), AND knowing.  I first was shown the X symbol, in portrait format (upright), by one of my spirit guides, Ari.  The angle of the lines were important.  It should be as though a circle has been divided into 6 roughly equal sized pie pieces - a bit like a 6 point asterix / star, except that two opposite points of the asterix, the left and right points, are missing, leaving an X symbol.  I hope that description makes sense! But, that is the way it was shown to me.  
I was also shown that the centre of the X, is a black hole.  I know black holes to be portals of infinite creation - an intensity of "no thing", where all things are created from.  I was shown that this upright X was a POWERFUL, yet confronting symbol, of the universes' current journey, and our own personal journeys back to feminine wisdom.  A journey of finding a true balance between masculine, and feminine energies, and transforming what our definition of "power" is, from "power over", to "power with". 
I was shown many metaphors in this X - you will see many of your own, if you sit with her energy.  The most powerful and confronting one I saw, was a mirrored image, of a naked woman sitting, legs spread, up in the air like a V.  Her sacred yoni, a portal of infinite creation! This woman represented the feminine aspect, of all of us.  Wow.. Empowering stuff!
The day after I was given this symbol, I immediately began seeing the symbol EVERYWHERE - in this exact format, with the exact same angle, of the crossing lines.  I first saw it in a BIG crack in the rocks (pictured right), above a truly magical feeling waterfall in North Queensland.  This caught my attention.  Over the coming days, it appeared before me in trees, in my dreams, and everywhere I went. 
I also started seeing it in landscape format, the same X laid down on its' side.  In this format, it has an entirely different energy.  Less confronting.  And to me, it eminates the energy of a journey.  The process of becoming.  The process of being on your way.  I saw this appear in many different ways, but the one that stuck in my mind, was while driving down the road (pictured left), journeying to our next destination (physically, and spiritually, simultaneously!)
When I closed my eyes to tune in, I was guided to the energy field of all of these metaphors.  It eminated symmetrical purple and green wriggling stripes, in different shades, out from the centre of the black hole.  Purple and green frequencies moving together are common in energy fields I perceive.  Especially this year, in 2020!
To me, the purple and green stripes, represent realignment with or connection to, your own individual authentic truth.  The green is universal love, and the purple, is intuition or psychic ability.  So it makes sense that I am seeing this pattern repeated often right now, in the energy fields' of people, collectives, and of the earth itself.  If you would like to understand the significance of the purple and green stripes in more detail, check back, as I intend to write a much more detailed blog post on this.  I will link it here, when it is complete.  
When I asked what the piece was called, Ari told me it was an abundance multiplier.  Hence the name, Black Hole Multiplier.  It is helpful in tuning your frequency towards any kind of abundance you desire to create, and set your whole intention towards it.  
This artwork is particularly fun to gaze at / meditate to, as it creates optical illusions with your eyes, making it easy to "lose yourself" and let your mind chatter dissipate.  You can move your gaze closer or further away, and soften your eyes to a blur, to help kickstart the illusion if you like.  Infinite messages, lessons and metaphors will come to you! If you do have trouble quietening your brain (or even if you don't!), I have a song recommendation for you, to listen to, while gazing at it, if you are called to this.  It is called 'In My Womb', by Scarlet Crow.  You can hear it here, on SoundCloud: https://soundcloud.app.goo.gl/tVLD.  Enjoy!
All things have energy fields, as we all are made up of energy. Humans, animals, plants and trees, rocks, everything! It's that "presence" that you feel when you're around something, like a big old ancient tree.  Some may refer to it as an aura. Some think of it as their intuition or a "gut feeling".  We all feel it at times, but not everyone knows what it looks like.
Energy fields are continuously flowing, and ever changing. This artwork is my stylised interpretation of a snapshot in time - the colours, and shapes that I saw in this field of energy.
You will receive
1 x 14.8cm by 21cm / A5

one of a kind, water colour, original painting (unframed), titled "Black Hole Multiplier", representative of the above described energy field, as I perceived it.
Please note: The portrait will be received unframed, and it is intended to be hung in 'landscape' format, as per the photographs provided.   
Copyright Information: This original artwork is for personal use only. It may be hung in a personal residence, or at a business premises.  Sharing, replication and commercial use are not permitted. If you wish to replicate, or use for commercial purposes, please contact me about purchasing an additional license for commercial use. © Copyright 2020 Conscious Rainbow.
Additionally, imagery and photography in this shop listing may not be used or shared without explicit credit, and linking back to Conscious Rainbow, or The Billionaire Artist. © Copyright 2020 Conscious Rainbow.
International Shipping: This item can also be shipped to Aotearoa / New Zealand, Canada, and the USA. (See more shipping information). If you would like to purchase and ship your energetic portrait to another location (outside of Australia, Aotearoa, Canada, and the USA), please contact me BEFORE purchase , for a custom international shipping quote. If you accept this quote, I will manually setup our website to ship to your location, so you can continue your purchase online.
Recommendations for framing and hanging
Professional framing is recommended.  However, if you are looking for guidance, tips on framing it yourself, or details on hanging, please see framing and hanging information at thebillionaireartist.com/framing.
If you are interested in having your own CUSTOM Intuitive Energetic Timestamp Portrait painted, then please follow this link, to purchase.  
For further information on how these custom portraits are created, see the blog post below.  
How do I create a portrait of YOUR energy field?
Read the 'Intuitive Energetic Timestamp Portrait' blog post, for more details on the process.
© Copyright 2020 Conscious Rainbow.
See copyright information above, for details of copyright on purchased artwork, and copyright on imagery used in this listing.
---
We Also Recommend
---