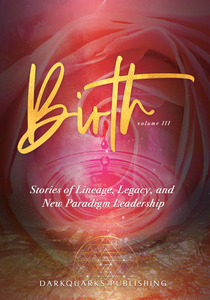 [[ BOOK PRESALE! ]] Birth: Stories of Legacy, Lineage and New Paradigm Leadership (Volume 3) - Physical Printed Book
IMPORTANT: This a PRE-SALE product, to pre-order and pre-pay for your printed physical book. It will NOT be shipped to you immediately. Shipping will occur after the author has received the first shipment of books.
FREE SHIPPING within Australia & $5 international, as a thank you for pre-ordering the physical book version of Birth (Volume 3).  THANK YOU! 💜
The long awaited printed physical version of the Birth Volume 3 book, is now available for pre-sale!
This means that, I don't yet have the books in my hands, but you can pre-order to receive your copy from our first shipment of stock, when it arrives. So that I know how many copies to order initially, please pre-order and pay for your physical book, and I will pay the shipping costs for you (within Australia, or heavily discounted for intenational), as a thank you for your support! 
Yep, that's FREE SHIPPING within Australia, and only AU$5 shipping for international orders, but only when you order via the pre-sale.
Shipping after the pre-sale period, will be AU$11.11, within Australia (international dependant on location).  
I will contact you before shipping you your book, to check that your shipping address is still current.  
Thank you so much for you support! x 
Cherie ~ The Billionaire Artist 
PLEASE NOTE: This pre-sale is for the physical printed book.  If you are looking for the eBook version please see the Amazon link for your country at thebillionaireartist.com/birth 
---
We Also Recommend
---